Binance Coin has skyrocketed in terms of usability and market capitalization in the last two years. Right from its ICO value of $5, it zoomed past $600 in no time. Despite the crypto turbulence, market issues, legislation, and crypto ban news coming around from different countries, the stability of BNB has shown the future possibilities of cryptocurrencies.
Binance Coin has been at the core of various successful functions of BNB since its ICO launch. BNB is not just limited to decentralized ecosystems and spans over several other blockchain-based services. Since its ICO price of $0.10, BNB has skyrocketed to the current trading value of $420. 
BNB seems to be facing stiff resistance in maintaining its upside momentum after crossing the $400 mark. With a strong resistance or sell-off reigniting at $650 levels and support developing around $350, the range has widened, indicating a possibly strong breakout out of trading milestones.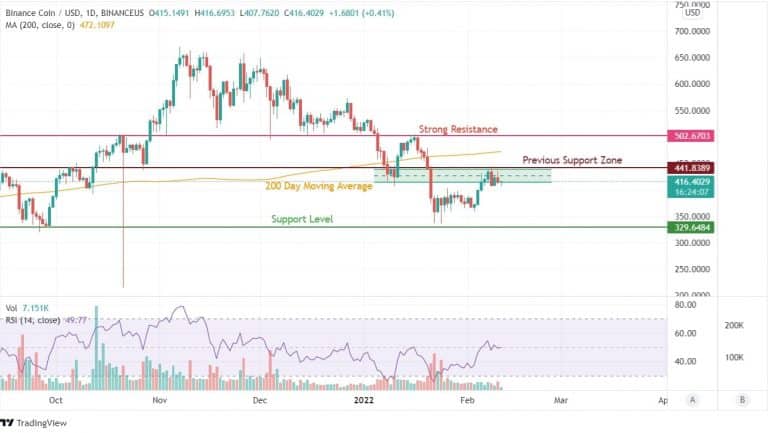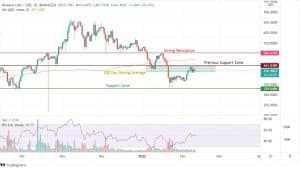 Comparing the currently traded price from the last 12 months of price action since February 2021, we can witness a strong upside movement that created a support range close to $220 levels. Since taking support from this level, Binance Coin has consistently attempted to retest its May 2021 highs but failed to secure its value above $670 even in November 2021. The resulting crypto-wide chaos about its power consumption countries banning several cryptocurrency trading platforms led to a sharp decline in its value. As a result, it fell from a high of $670 to a low of $340. 
This support was important since its same level prices rebounded in September 2021. Even the price action seems to be a replica of the September 2021 movements. The previous swing support zone of $450 will be instrumental in deciding the success vs. failure of this cryptocurrency. After breaching $450, $500 will be another treacherous level to cross for BNB to secure its progressive growth numbers as compared to 2021 as per the BNB price prediction. 
In the near term, we have witnessed a 36% premium trading value of Binance Coin, compared to its 200 Days Moving Average in November 2021. BNB now trades at a 13% discounted value, compared to its price action in the last six months. The first sign of positive movement will be overtaking its 200 DMA level and beginning a new swing. While BNB remains just 12-15% away from its 200 DMA level of $470, the RSI or Relative strength index is trading at a midway value of 49. 
These two factors indicate a strong upside movement for BNB and an opportunity to create higher wealth in the coming months.