Bitcoin Cash (BCH) is currently around $168, and if we compare this price point with yesterday's opening price, which was $266, the loss would be substantial. The story is the same for the entire market, including Bitcoin. Few coins have breached the 52-week low during the ongoing price crash. Fortunately, the BCH coin has readjusted 90-days low and has reflected improvement since then. The growth in the price was anticipated from the ongoing month. But it looks like the investors awaiting the same will have to wait for some more time.
Bitcoin Cash Price Analysis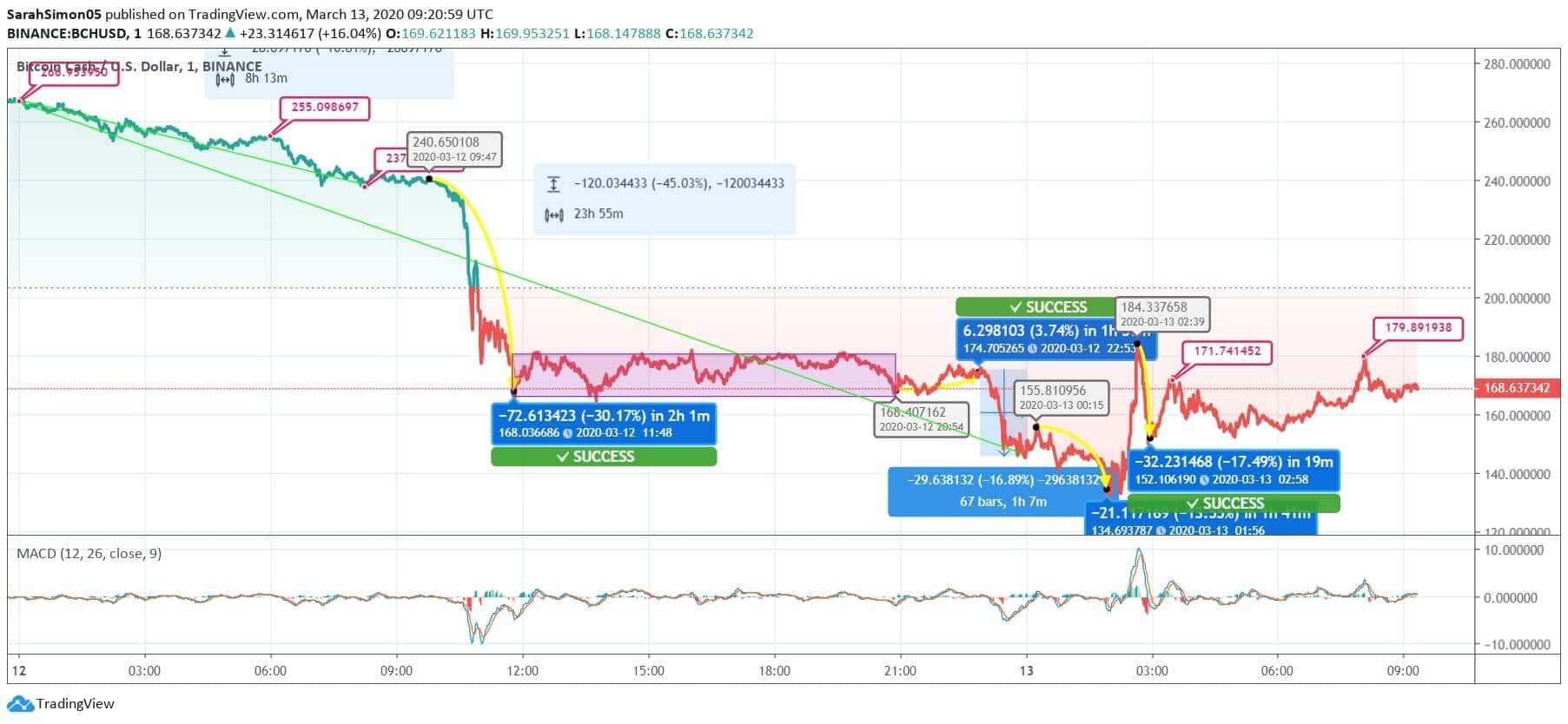 Yesterday, Bitcoin Cash price was spotted at $266 during the opening hour of the day. In the next 9 hours, Bitcoin Cash dribbled to $237 with a spike at $255. The coin locked the price level but couldn't hold for long and plunged to $168 by a massive fall of 30.17%.
Further, BCH coin hovered around the same price level, and at 20:54 UTC, the price escalated to $174 by a marginal hike of 3.74%. Before closing, Bitcoin Cash price dribbled to $150 and closed the day. The intraday movement in the coin exhibited a 45% regression in the price.
Today, the currency started with a marginal improvement that was transformed into a 13% drop within the first two hours. The price counter stroked $134, and then it spotted a considerable hike, and the BCH price touched $184. But again, it faced a steep fall, and the price plunged to $152 by 17.49%. And the price recovered to $171. Bitcoin Cash price is hovering around the same level with a spike at $179.
At the time of writing this analysis, the price was trading at $168. The coin is likely to dribble to the immediate support level at $113. The current price momentum might take some time to improve, and till then, the coin is anticipated to hover around the same level.