AMP is created on the Ethereum blockchain, and it represents digital collateral tokens. This ERC-20 token was first launched in 2020, and after that, it became popular, mainly because it is listed on Coinbase.
Dave Rogers developed AMP in 2020 to create collateral for large transactions in the crypto world. The lack of trust between the two parties is an important factor, and that is why we need a centralized system in the real world. This collateral-backed crypto agreement solves the problem of large transactions such as the sale of properties, cars, etc.
In the case of valuable transfer, it provides fast and verifiable assurance to the users. It also reduces the interchange rate and prevents fraud between two parties when performing transactions. In this way, it backs currency exchange, digital payments, and loan payments.
In fact, it can ensure the value of transfer even when the value is unconfirmed. In some rare cases, when payments take too long to process, users can liquidate AMP collateral. It covers the cost, and the vendor gets the payment on time.
It has a total market capital capitalization of $1,131,081,586. The best part is that AMP is decentralized and open source so that users can integrate AMP during the value transfers and digital assets.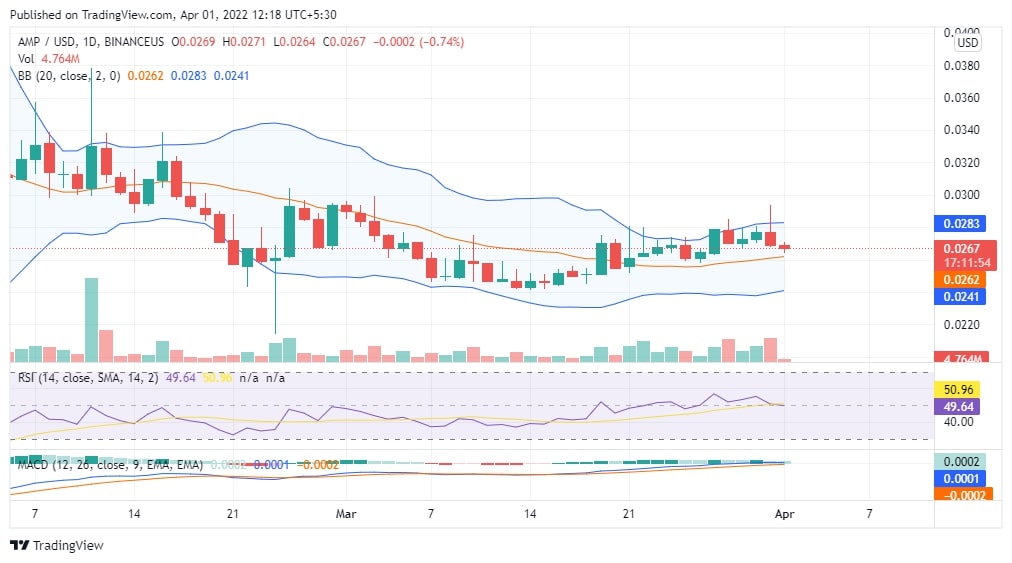 At the time of writing, AMP was trading around $0.026. After a long consolidation period of around $0.024, it spiked up, but it will face resistance at around $0.029.
Will it break that level? Check out the AMP price prediction to find out the answer and the future performance of the coin for the next few years!
The MACD line is trading above the Signal Line, which indicates bullish momentum. The RSI is around 50, which also suggests bullish momentum. Not just that, the candlesticks are also in the upper range of the Bollinger Bands indicating strength in the coin, and overall the coin is bullish.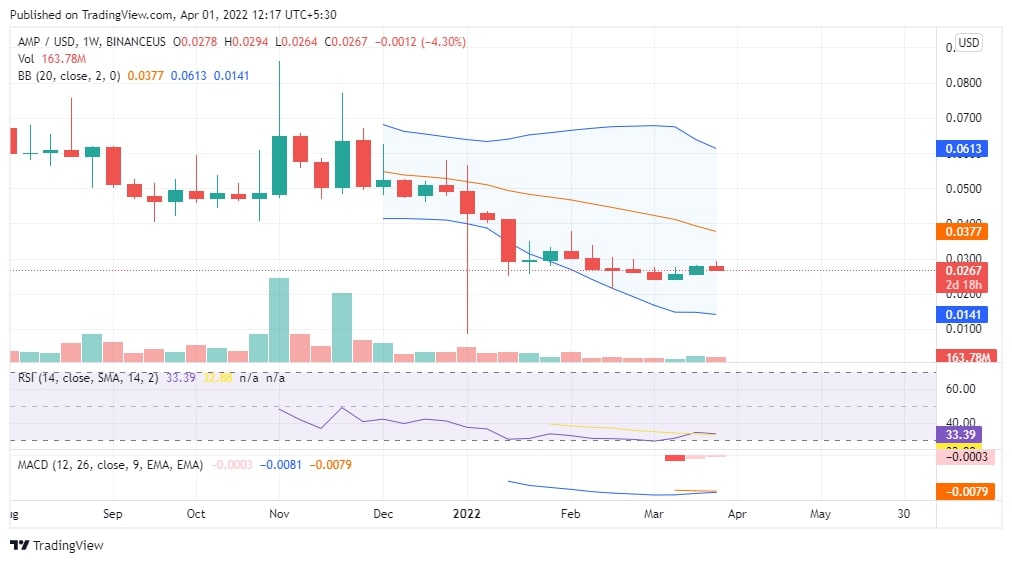 On the weekly chart, the situation is different. After forming two green candles in the last two weeks, it is now forming a red candle, suggesting the price may fall further. Moreover, most of the candlesticks are not reflecting bullish signs.
That is why we think it is not the right time to invest for the long term. If you are too active in the crypto market, you can trade in the short term, but if you want long-term investing and treat AMP token as an asset, you have to decide based on the fundamentals.