Dogelon Mars is one of the popular dog meme coins, which is compared to Dogecoin and Shiba Inu. It has no relation to Elon Musk, but because of its name, the coin is getting more volume day by day. It is an Ethereum based ERC 20 token. 
 There is a story behind the coin. The story is set in 2040, where March lives with his family members and makes the town a technological powerhouse to benefit all species. However, the town is attacked by the annihilator, and Mars travels back through time to planet Earth, where he seeks safety and starts a new journey. Many people think it is not an asset, so they invest to gain profit from the volatility, but it is risky.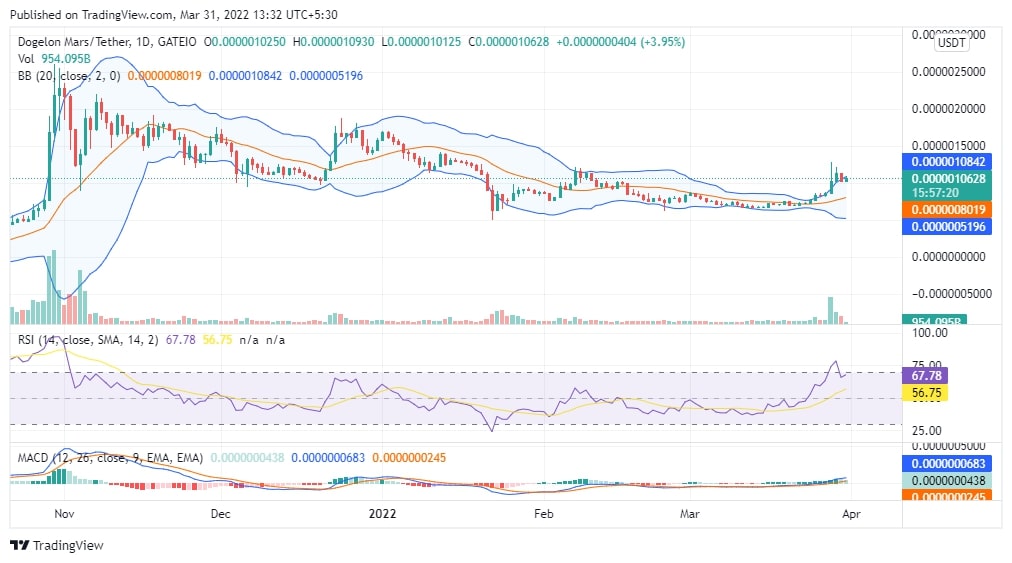 When writing this post, ELONUSDT is trading around 0.00000106, and the chart looks bullish. After taking support around 0.0000006, it jumps more than 20% within a week. It is the power of meme coin, and many investors are trading on this opportunity. 
Looking at the chart closely, you can find that it faced resistance and retrace from the level. It is not the ideal time for investment, but we have to analyze the technical indicators for more detail. 
On the daily chart, MACD is bullish, and RSI is in the oversold zone. The candlesticks are bullish even on the Bollinger Band. Overall, in the short term, the chart is bullish, but we do not think it is the right time for investment in the short term as per the Dogelon Mars price prediction.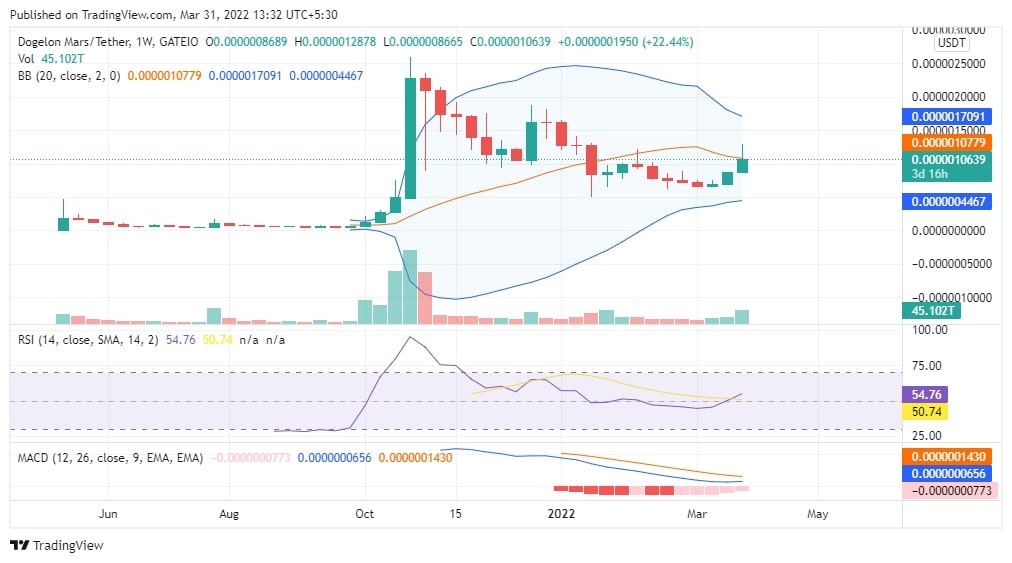 On the weekly chart, the MACD is bearish, and RSI is stable at around 55. However, candlesticks are still in the lower half of the Bollinger Band. It suggests the chart is not bearish in the long term, so you should not take any position now for the long term. However, we think it will be a great time to enjoy the bull ride if it crosses the level of 0.0000013 USDT. After that, you can invest for the long term, but you have to maintain a closer look at the price action because it is a meme coin, so it can be very volatile.  
It does not have a strong fundamental, but any positive news or tweet from Elon Musk can skyrocket the price and disrupt the fundamental and technical analysis. Please do not invest a large amount in the meme coin because these are not assets like Bitcoin or Ethereum, and you should invest a small amount that you can afford to lose. Please follow our website to get the latest update on cryptocurrency.